Fuengirola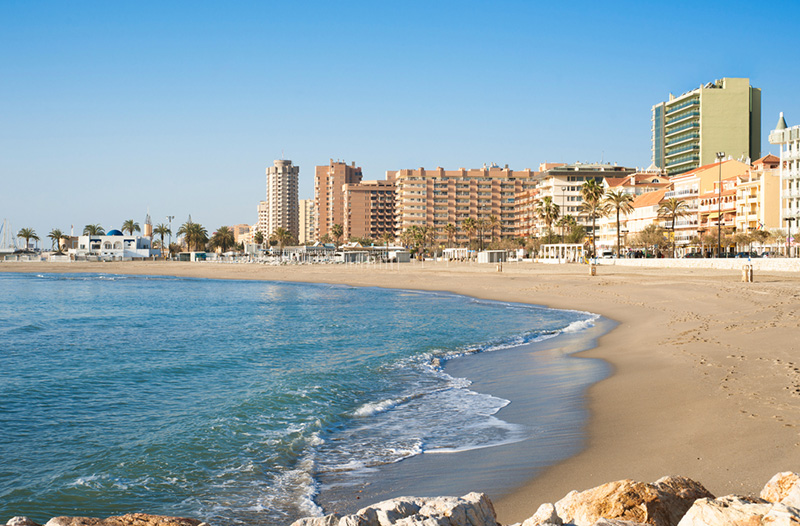 16/07/2019
Fuengirola: Family Fun at the Beach
Not 25 kilometers from the city of Malaga, in the province that goes by the same name, is Fuengirola, a family-oriented, quiet beach town. Nearby are small settlements Mijas and Benalmadena, also popular Costa del Sol resort towns that are great choices for holiday makers with or without children to bring along. With a temperate Mediterranean climate that averages about 32 degrees in the summer, the cool breezes ensure that it never reaches unbearably hot temperatures.
Fuengirola claims six kilometres of Costa de Sols golden sand as its own, and together with nearby Los Boliches, there are tons of facilities and other amenities to take advantage of at Castillo, Santa Amalia, San Francisco, Boliches, Carvajal, and Gaviotas beaches.
While the peak of the festival season is high summer in most places, the Fuengirola Feria actually takes place in the autumn between the 6th and 10th of October. During this time, Fuengirola becomes a tribute to Our Lady, the Virgin of El Rosario, Patron Saint of Fuengirola. This vibrant celebration is one of the Andalucian region's most important, and locals and travellers alike revel in the atmosphere of leisure and relaxation.
Fine Dining Possibilities
There are a number of restaurants to choose from depending on your tastes. From all types of cuisine, ranging from Spanish, to traditional tapa bars, to daily catches of all manner of seafood that can be eaten on beachside restaurants and cafes, there really is a diverse selection of culinary delights to sample.
Restaurante Palangreros is something that should be booked in advance, but is well worth the trouble for its unique delicacies such as fried cucumber with blueberry sauce, tenderly cooked bream, and excellent selection of local and international wines. The overall ambiance is inviting, with a waiting staff that are of the level of excellence you would expect from an upper crust eatery without gut-wrenching prices.
Another standout dining experience that is billed as 'very stylish' with a modern interior and a decked out kitchen that you would expect in a more metropolitan area is La Solana. With items such as foie gras and excellent wine, this one is definitely a cut above the rest. One happy customer even compared their quality of food with that of Michelin-starred restaurants.
Finally, for food from the grill, Las Piedras Gastrobar has the perfect kind of 'chilled ambiance' with friendly clientele and servers alike. The Gambas Pil Pil are recommended to try, and the steaks were especially called out by for their tenderness, seeming to melt in the mouth. While off the beaten track from all the rest of the Fuengirola hoopla, this one is worth the trek to get there!
For those wanting to liven up their night, Bar Belga Fuengirola and Bar Elements were both praised for their selection of brews and spirits, sporting a warm environs to boot.
Get Around on Foot
Touring around as a pedestrian, even as a resident of Fuengirola, is a great way to appreciate the overall relaxed ambiance and see an authentic side to the city you might not otherwise experience. For a chance to see some remnants of the Phoenicians, Carthgianians, Romans, and Moors who occupied the area dating back to the first century BC, visit Plaza Constitucion and its various bits of living history.
On Tuesdays, sample local home-grown culinary concoctions and other goods at the Fuengirola Street Market. Early risers will likely get better deals because most of the activity happens in the morning, so first come, first serve. Another busy part of town is La Plaza de los Chinorros, which is worth taking a stroll around for its available shops and restaurants.
Next to part of the long stretch of beaches in Fuengirola sits Catillo Sohail. The Castle of Sohail is the biggest castle in Malaga, a Moorish relic of their time as rulers of Andalucia. This is great to walk around, but as it is just outside of town, it is a short car ride away to get there.
Sporty Activities
As Fuengirola sits on an inviting body of water, there are naturally a nice array of water sports to choose from. Parasailing and paragliding are popular – you can often see people doing this during any day of the week. Both Pirate Parasailing and Smile High Parasailing and Watersports companies can arrange for an opportunity to have fun on the Mediterranean. If you want to go deeper than the surface, Abysub offers assisted diving as well as diving lessons to explore aquatic life at the depths of the seabed. It really is another world down there!
For something a little drier and more dynamic, Fuengirola Skate Park offers some ramps and rails for those skaters that need to get their adrenaline levels up. Karting Experience Fuengirola is another popular place for the youth in and around Fuengirola to get their kicks, zooming around a curvaceous track trying to beat their best lap time. For those trying to burn calories in a more intentional way, Solbeach Fitness Centre has you covered with a variety of classes and a weight room to tone up. Finally, while not necessarily a serious connoisseur's first choice, Fuengirola Adventure Golf offers plenty of accessible fun for the whole family, even if your handicap isn't great.
Parks and Tours
Costa Water Park is a fun way to cool down in the hotter months, and Bioparc Fuengirola is open during the night for a fun way to see nocturnal creatures in their routine that you normally wouldn't get to see.
If you want to see Fuengirola from a different point of view, why not take a boat? Deans Charter Fishing and AlborAn Explorer are both available options to take you out to see, and as the former's name might suggest, you can hire them to help you catch a fish or two!
Personal Safety and Health
While there is no hospital in Fuengirola proper, there is a private clinic called Xanit that runs just off of main road that goes through Fuengirola on the way to Los Boliches. Otherwise, the closest hospital for general check-ups and emergency services would be in Benalmadena, also going by the same name Xanit. It is highly recommended for those planning to stay in Fuengirola for any extended amount of time that they register with the local Centro de Salud, or the Health Centre, for preventive purposes.
---